My sketch of Ipoh's living heritage- Ipoh white Coffee




A few years ago, I was infuriated by a short passage in the Lonely Planet book on my beloved hometown. It described Ipoh as,
"… mainly a transit town, a place where you change buses; … chaotic traffic; … crumbling Chinese shop houses and ugly modern blocks"; and, specifically for New Town: "…. generally dingy part of town, with a notorious prostitution problem and no real attractions."
No mention of its food, its heritage, its natural attractions whatsoever! As I visited more and more cities, both in Malaysia and overseas, most recently New Zealand, I began to realize the lack of appreciation for heritage and culture in my hometown. Some cities have done really well on heritage preservation, most notably Georgetown and Malacca, which both obtained World UNESCO historic city status in 2008.
The same cannot be said of some cities in Malaysia. As much as I was impressed and cheered by vibrant, youthful walls of the buildings in Chinatown, Kuala Terengganu, which I visited 3 years ago, I now think that they are nothing but an evidence of misinterpretation of the meaning of heritage tourism by the local government, or maybe it wasn't even thinking about heritage tourism? It looked more like a fun fair with its garish appearance. You'd almost expect Mickey Mouse and gang to materialize any minute. But at least the municipal people there did something to promote tourism.
Garish wall in Chinatown, Kuala Terengganu,
Back in Ipoh, I heard of the infamous new toilet replacing the historic Birch fountain in Little India, the demolition of a whole row of buildings once filmed in Ang Lee's 'Lust, Caution' and the Yau Tet Shin market-turned-carpark and most recently, crumbling of 2 of the 7 dangerous buildings in Concubine Lane( Lorong Panglima ) making national news.
Birch fountain ( demolished )
(photos taken from Ipoh Echo)
In Napier, New Zealand, I joined an art deco walk guided by volunteers. There were only 2 of us, a middle aged woman from Australia and me. Being on a very tight budget, I'd forgone 2 other heritage walks (in Dunedin and Wellington) that I was interested in and shortly after the Napier walk, felt that I should have joined the heritage walks instead. As I have no basics in architecture, I think I only understood about 50 % of what the guide said, retained about 2% as I made the silly mistake of throwing away the art deco walk brochure (into the recycle bin). Retrospectively, I have no regret joining the Napier walk, although I still wish I'd joined the heritage walks. That 2% of knowledge has sparked off in me a new found interest in heritage buildings.
When I came back to Ipoh, it became clear to me that Napier and Ipoh have a lot in common:
In 1892, the 'Great Fire of Ipoh' destroyed over 120 houses. Town planners reorganized the town's layout and replaced soil paths with proper straight roads. Old town was founded. The population swelled to 11,000!
Fast forward to 1930, Ipoh became the first town in Malaya to supply electricity. In the same year, Napier was devastated by an earthquake, which was followed by a fire, The disaster changes, forever, its geological landmark, giving it more land and a new start, with wider roads, and most notably, the opportunity to build what was very fashionable back then – art deco buildings.
Source:
1. Ipoh, the sentimental side: A self-guided heritage tour to touch the past( brochure)
2. memory from guided tour ( brain cells)
Sadly the similarity stopped pretty much there, at least in the efforts made for heritage preservation and tourism. Napier has an impressive collection of art deco buildings. It is not shy to show it to the world, promoting it in the form of art deco guided walks and the annual art deco festival, a major tourist attraction. On that day, people in art deco costumes would go on street to dance and sing and be spectators of a vintage car parade.
Art Deco festival in Napier ( photo taken from punahou)
And as most cities in the First World, they are very strict about the preservation of the art deco buildings. Renovations of an art deco building are to follow strict rules on what constitutes art deco architecture.
Ipoh has been commended by visitors as a very well planned town, some even said that it's the best planned in Malaysia ( Putrajaya doesn't count)! Neat rows of buildings, 45 degree design( don't know the technical term) at major junctions to enable motorists to have a better view of vehicles approaching from sides, old and new Towns flanked by 2 major roads( Hugh Low and Brewster Rds) and clearly demarcated by the Kinta river( another sad story for another day). Sadly, the CBD in Ipoh seems to have shifted to Greentown (with no historic value at all).
On my recent trips to Georgetown, I was very impressed by the effort made to preserve heritage buildings and to promote heritage tourism, especially after visiting Mr Tan Yeow Wooi's office, an architect specializing in heritage building restoration.
It dawned on me that Penang was doing as good, if not better, as the cities in New Zealand! I was pleasantly surprised as frequently as every few steps on streets like Armenian Street, Love Lane, Muntri street by its bilingual/trilingual street name signage,
heritage building turned boutique hotels/ hostels,
Ryokan Chic Hotel, Muntri Street
art galleries,
quirky souvenir stores eg 14 Living Story,
14 Living Story, Armenian street.
restored temples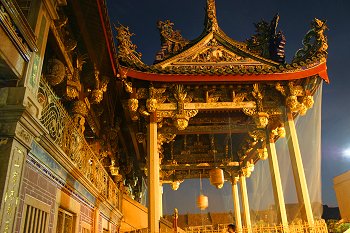 Khoo Kongsi
various heritage organizations in beautiful heritage buildings with lots of free tourist info brochures, Just like isite, the government tourist info centre seen everywhere in NZ, even in rural towns with only 330 people ( Norsewood ).
Georgetown World heritage Inc building
(photo taken from the star)
Speaking of Norsewood, this reminds me of another happy discovery in Georgetown, community arts! Fuh, now very excited! The first evidence of community art I spotted in Penang is an impressive wall mural by English artist Ernest Zacharevic. It's a mural of old man on the wall of Armenian Art café.
Impressive wall mural, Armenian Art cafe
There're also quite a lot of giant sized wall photographs of normal people of Georgetown, praises for Georgetown by world renowned people like Zang Toi, printed on boards fixed on walls. And the one that tickled my heart the most was a kind of thick wire art depicting stories of the old Penang.
wire art , Muntri st.
How much does it cost to make wire art like this? I'd rather the money to build the ugly toilet in Little India be channeled to decorate Ipoh. Speaking of the ugly toilet, there's a pile of horrendous-looking fake stones under the flyover near Kampar Road. I bet it'll cost much lesser if the money'd been used to sponsor local artists to paint mural on walls of the flyover.
If I were to be given the chance to be part of a group to introduce community art in Ipoh, I'd do it in a heartbeat! Maybe I'm just not aware of an existence of community art in Ipoh, just as I was not aware of the availability of the Ipoh heritage walk. Maybe there is hope for Ipoh art! We could print LAT's cartoons of old Ipoh and famous Ipoh food on giant sized boards and put them around Old and New towns!
LAT's cartoon of the demolished Yau tet Shin market, now a carpark =(
When I expressed my concern over Ipoh's lack of effort to a staff of Georgetown heritage Inc ( an ex-Ipohite, who attended the same school, Anderson school as LAT) , he lamented that Perak was not meant to strive on tourism, but tin. But Greymouth in New Zealand (commented by many to be the ugliest town in nz) was not meant to strive on tourism either, but Gold! So they focused on that and built a gold mining heritage theme park.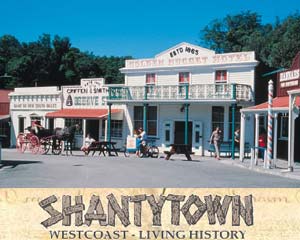 Greymouth brochures explained extensively about the history of Gold mining. Although I was not attracted, my boyfriend certainly was. There have been talks on building a tin mining heritage museum/gallery in Ipoh but where is it?
Something must be done to revive Ipoh's past glory. I am leaving Ipoh in a short while and may never live here except for the occasional balik kampong trips on holidays. I hope that my fellow hometown people may someday realize that what we have is very special and it depends on us to preserve it. And what I can do right now, as my time before leaving Ipoh dwindles from weeks to days, is to sketch as many of the heritage buildings as possible before they deteriorate beyond recognition and repair, and I wholeheartedly wish that that day will never come.
My sketch of Ipoh Old Town